Dream Protein Vanilla 720 Grams By Ceautamed
Dream Protein Vanilla 720 Grams By Ceautamed
Write a Review
Ceautamed
Dream Protein Vanilla 720 Grams By Ceautamed
SKU:

9511

UPC:

826106247770
Sale Price:
Your Price:
$58.79
Description
Dream Protein Vanilla 720 Grams By Ceautamed:

Dream Protein is a hormone free, Ultra-Low Temp whey protein isolate. Dream Protein also contains soluble fiber (FOS) that has been shown to encourage growth of favorable bacteria. Dream Protein is available in vanilla and chocolate flavors.
Ingredients: Protein blend (Ultra-Low Temp whey protein isolate, whey protein concentrate), Fructooliogosaccharides (FOS), xanthan gum, natural flavoring, stevia
Instructions: As a dietary supplement, take one or more scoops daily to supply your diet with protein. Mix one level scoop with 6-8 ounces of water, milk or your favorite beverage.
Manufacturer: Doctors For Nutrition
Dream Protein can be taken alone, or better yet…MAKE IT A MEAL!

Combine Dream Protein with Greens First and Omega-3 First to make it the Healthy Living Shake – a delicious meal replacement that's perfect anytime for those with a busy, on-the-go lifestyle. (It's also GREAT for healthy weight loss!)

Dream Protein leads the "whey" with its proprietary Hormone-Free, Ultra-LowTemp™ Whey Protein Isolate. We start with hormone free whey from New Zealand cows that are "Meadow Fed" and not given any rBGH or BST hormones!

Dream Protein is made with an Ultra-Low Temp™ process, which is beneficial because the protein is not denatured (damaged) from an extensive heat treatment. This means that you'll receive all the essential and non-essential amino acids plus naturally occurring immunoglobulins (which are necessary for proper immune function).
Dream Protein also contains a soluble fiber (FOS) that has been shown to encourage growth of favorable bacteria which help to strengthen the immune system, assist in digestion of food, as well as, to help promote regularity.


NO
• Sugar
• Fructose
• Aspartame
• Sucrose
• MSG
• Artificial Sweeteners
• Glutamates
• Soy
LOW
• Carbohydrate
• Fat
• Cholesterol
• Sodium
• Lactose
• Glycemic Index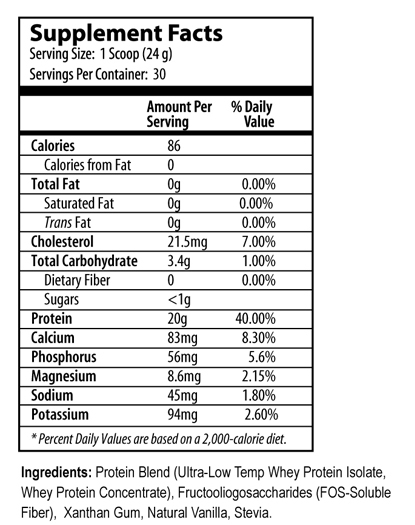 The unique ingredients in Dream Protein may help to:
• Boost Immune System
• Enhance Energy Levels
• Maintain Lean Body Mass
• Maintain Healthy Weight Management

Whey protein is an excellent protein choice for individuals of all ages. It provides a number of benefits in areas including sports nutrition, weight management, immune support, bone health and general overall wellness!

View All
Close
1 Review
5

Great natural powder that mixes well!

Posted by Unknown on 1st Jul 2014

This is a great product and health palace sells it for a great price.
View All
Close
Related Products
Customers Also Liked