Platinum Naturals Total Cardio Care 120 Capsules
Write a Review
Platinum Naturals
Platinum Naturals Total Cardio Care 120 Capsules
SKU:

15446

UPC:

773726032203
Sale Price:
Your Price:
$55.95
Frequently bought together:
Description
Platinum Naturals Total Cardio Care 120 Capsules:
Total Cardio Care is a specifically formulated supplement with protective natural antioxidants, phytonutrients and omega oils to support cardiovascular and arterial health. This synergistic formulation contains krill oil, naturally fermented coenzyme Q10 (CoQ10), resveratrol and eucommia, all with proven benefits for cardio protection, blood pressure and anti-inflammatory properties.
Omega Oils:
The human body cannot make Omega 3 & 6 fatty acids and that is why they need to be consumed through diet. The main sources available for consumption are marine (fish and krill oil) or plant sources. Fish oil contains both docosahexaenoic acid (DHA) and eicosapentaenoic acid (EPA), while plant sources contain mostly alpha-linolenic acid (ALA). A recent systematic review of randomized controlled trials found that consumption of EPA and DHA from fish or fish oil supplements, but not ALA, benefit cardiovascular disease. EPA and DHA can decrease the risk of cardiovascular disease by:
1. Decreasing serum triglyceride levels.
2. Supports normal blood pressure.
3. Decreasing inflammation.
4. Supports cardiovascular health
Other Key Ingredients For Heart Health:
Japanese-source Coenzyme Q10 from Kaneka®
Vitamin D3
Resveratrol
Eucommia
Cordyceps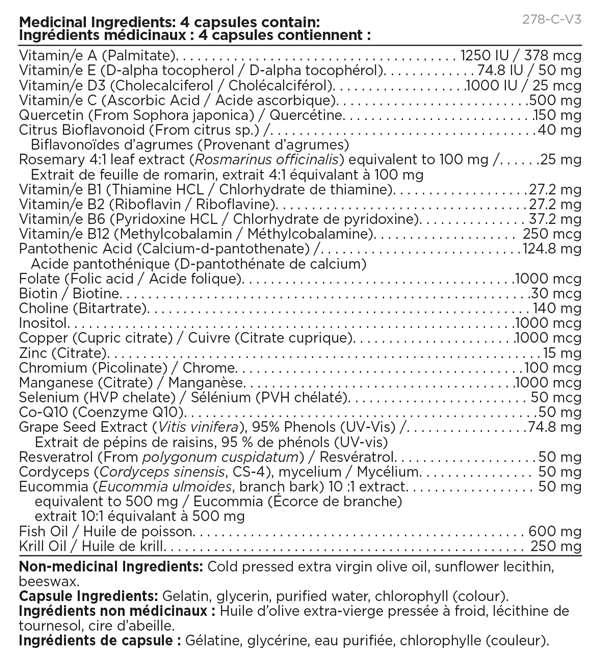 Halal Certified
* Products are manufactured without gluten but not tested.
View All
Close
Related Products
Customers Also Liked